HORTICULTURE SUITS YOU
Seasonal work is all about flexibility. That is why we are always looking for motivated people who want to work result-oriented at professional horticultural companies. You work in a team at highly professional companies that supply internationally and grow vegetables, fruit or other crops on a large scale. Think of strawberries, blackberries, apples, cherry broccoli, or growing plants. Depending on your availability, we look for a suitable client. One time or on a recurring basis. You start as a production employee. If you work for a company for a little longer, there are opportunities to grow or to get an annual contract. Fruit Jobs strives to optimally arrange all matters at and around work for you.
Function profile
As a production employee you can be deployed all-round within the company, but you will ultimately be deployed in the position that suits you best (depending on your experience). You are responsible for, among other things, harvesting and sorting strawberries, blackberries, apples, cherries or broccoli. or taking care of and sorting the plants. A varied job with a lot of challenge!
Requirements
We are mainly looking for highly motivated people for the vacancy of production employee! You have a good dose of motivation and would like to work in horticulture. You are available full time.
appointment
It is a full-time job. You start with a temporary employment contract that we enter into in consultation.
Werkgaranties van Fruit Jobs
Zekerheid van werk
Een periode die past bij jouw wensen
Als je wilt zorgen we voor huisvesting in een van onze locaties
Woon-werk vervoer is geregeld
Inclusief zorgverzekering
Goed nettosalaris
Mogelijkheid tot een jaarcontract
Vergunningen zijn in orde, daar heb je geen omkijken naar
Bij aanvang begeleiden we jou persoonlijk om alle papieren in orde te maken
Extra garanties van Fruit Jobs
Om je verblijf zo aangenaam mogelijk te maken, heeft Fruit Jobs ook zaken die niet direct met je werk te maken hebben goed geregeld. De omgeving heeft jou en je collega's in je vrije tijd genoeg te bieden.
Fietsen staan ter beschikking
Poolse winkels en restaurant (Tilburg) in de buurt
Betrouwbare partners voor het vervoer op en neer naar Polen
Gratis wifi in alle openbare ruimtes
Een sportveld in de omgeving voor onder andere voetbal
Volop winkels en supermarkten binnen twee kilometer afstand
Een team met gezellige collega's
Goede tolken beschikbaar om bijvoorbeeld mee te gaan naar de dokter
Er is Poolse tv aanwezig in alle accommodaties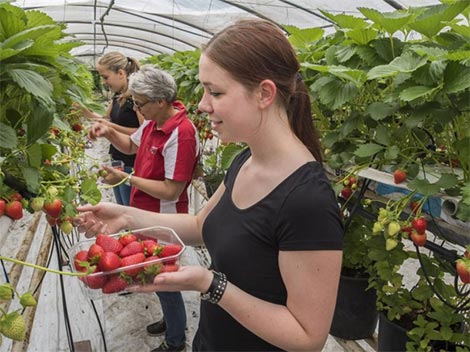 Production worker
Dongen
Solliciteer nu
Wij zijn op dit moment op zoek naar